Live Music Review: Parkway Drive, Asking Alexandria, Stick To Your Guns
Parkway Drive + Asking Alexandria + Stick To Your Guns 
Cardiff Students Union
11/04/17
Bringing the hardcore element to tonight's hardcore/metalcore bonanza, Stick to Your Guns have the envious task of warming up the amassed crowd. They do a stellar job of getting the throng off of their feet and even get a few circle pits going. In between vocalist Jesse Barnett's usual rousing speeches on the state of the planet and society, songs like 'We Still Believe' showcase the best of modern melodic hardcore. Nevertheless, it's obvious in the atmosphere that at least half of the audience currently present are just waiting for the next band.
Asking Alexandria do nothing if not provide a variety to tonight's crowd. They are arguably the quintessential metalcore 'scene' band nowadays and as Slipknot were a decade before them, they are a perfect 'Fisher-Price My First Metal Band' for recruiting young new metalheads. Put another way: there's a lot of teenagers here.
Despite some fairly obvious sound issues in the form of a lack of lead guitar for the pretty much the first half of the set, AA are met with rapturous praise. Front man Danny Worsnop, back from some time-off being a rock star, is his usual charismatic self, tonight minus the usual few dick jokes. His inimitable roar can't be faltered, and he certainly looks the part, bedecked in red leather jacket.
As they whip quickly through a classic hits set, fan favourites such as 'Breathless', 'A Prophecy' and 'The Final Episode (Lets Change the Channel) all get an airing. The setlist is quite heavy on the (Danny Worsnop favourite) 'From Death to Destiny' album, but conspicuously lacking in even a single track from last album 'The Black'. The reasons for this are not hard to guess at, but one wonders if the album is fast becoming a bit of a maligned anomaly in their career.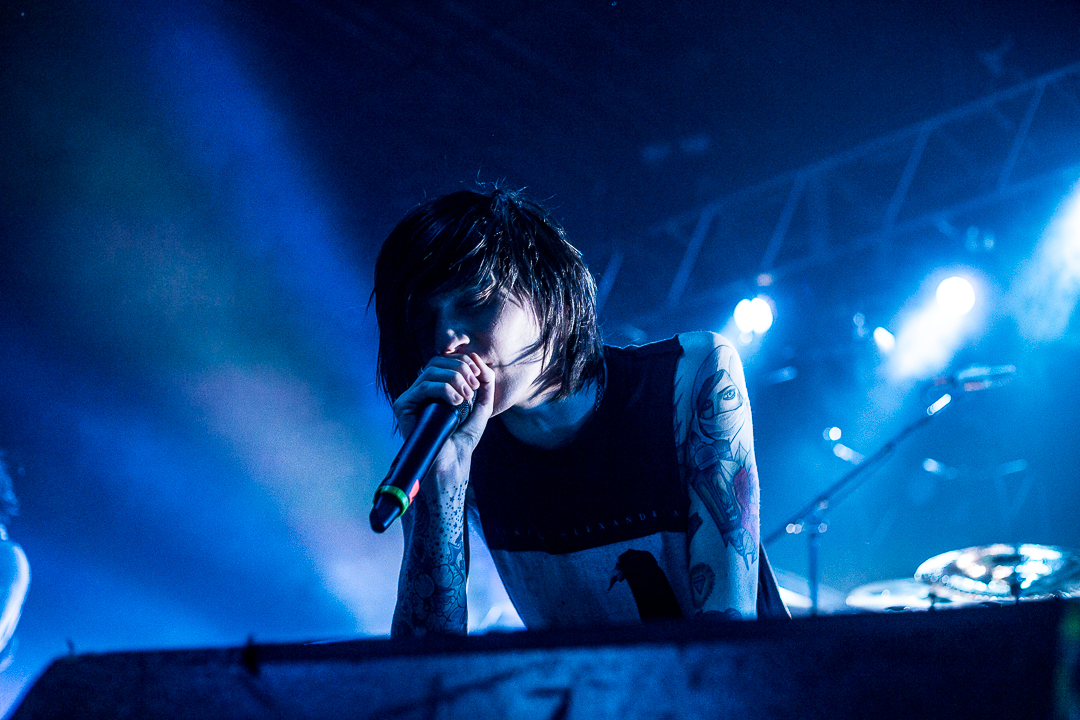 Coming on stage after a slew of alt-rock classics have played over the PA – including Men AT Work's 'Land Down Under'- the boys from Byron Bay come out and instantly turn the party into absolute carnage. When the brilliant 'Carrion' is unleashed early on, the room dissolves into a blur of flailing limbs, screaming and sweaty bodies being flung against each other. There are people climbing over and under each other, being trod on, being thrown bodily around. Mosh pits from left to right, front top back. It's a madhouse.
Parkway Drive's songs –as per – are absolutely crushing tonight. 'Destroyer' and 'Boneyards' are each met with revered vigour and bone shattering walls of death. 'Idols and Anchors' sees vocalist Winston Mccall's microphone give out, but who notices? The riffs are relentless, with guitarist Jeff Ling's masterful playing shredding out world class circle pit tunes. The band has an incredible talent for writing perfect mosh pit songs: 'Wild Eyes' and 'Sleepwalker' each being ready made for this environment.
Tonight is a reminder that Parkway Drive are at the top of the pile for modern metal, their perfect blend of hardcore, metalcore and traditional heavy metal bringing fans from across all three spectrums together and winning them all over. They also transcend these labels, as Winston Mccall announces shortly before they break into their cover of Rage Against the Machine classic 'Bulls on Parade': "before there were names like 'hardcore', 'metalcore' or a dozen other cores I don't give a fuck about, there were just great riffs."
What did you think of this review? Be sure to check us out on Facebook for the latest music reviews and music news